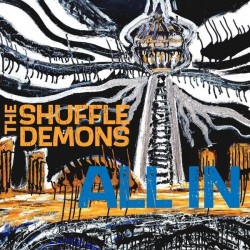 All In
Shuffle Demons
Stubby Records SRCD 7732 (theshuffledemons.hearnow.com)
The Shuffle Demons formed in 1984 by busking on the mean streets of Toronto and built their show and music into ten albums with much touring around the world. In fairness I must disclose sharing a Guinness World Record with these enterprising folks: we played the theme to Hockey Night in Canada with 900 other sax players in Dundas Square in 2004!
The Demons wear loud, colourful costumes, perform with enthusiasm and humour, and their music is exciting and fun. The personnel has changed over the years but their orchestration is consistent: three saxophones, upright bass and drums. Their latest album is All In (which could actually describe almost any of their musical performances or recordings) and features compositions by band members Richard Underhill (with six tunes), Matt Lagan, Mike Downes and Stitch Wynston.
There are no ballads on this album! One of my favourites is Wait, What? which begins at a blistering tempo with a melodic sax line I'd describe as "cosmopolitan" which is then harmonized and rolls into a bop solo. There is a great ensemble section in the middle, more solos and then the bright melody again for the outro. Watch Your Step has the funkiest riffs and much of the tune is filled with excellent ensemble work over delightful noodling melodies. In fact, all the tunes are melodic and inventive with energetic solos over top of the hard-working rhythm section of Downes and long-serving Demons' drummer, Wynston. All In swings and grooves for all ten tracks.