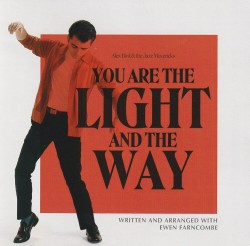 You Are the Light and the Way
Alex Bird and the Jazz Mavericks
Independent (alexbird.net)
Award-winning singer-songwriter Alex Bird has done it again on his newest release, showcasing his vocal prowess as well as great compositional skills. Along with pianist and songwriting partner-in-crime Ewen Farncombe, the pair has penned 12 new tracks with string and horn arrangements courtesy of the latter. Backed by the stellar Jazz Mavericks and several guest musicians this time around, Bird's sound has grown to newer and greater heights with this record. This album would be a valuable addition to the collection of any jazz lover who's looking to dive into the deeper and darker crevices of the genre.
The album starts off with the sultry title track You Are The Light and the Way, bringing the listener on a journey through the intriguingly seedy underbelly of the jazz world where the traditional and raunchy merge. The unique theme that carries throughout the record is a musical "path that blends the light and dark" in a way that holds the attention of the listener to the last note. From melancholy songs such as Way Back Home to positively toe-tapping pieces such as Old Soul and Back To You, Bird and the Mavericks bring a scintillating spark and charm that liven up these dreary winter days. This golden-voiced vocalist, reminiscent of Sinatra and Elling, brings the album to a close with the touching Honey Bee Lullaby, a promise of much more to come from this young talent in the near future.