A Love Sonnet for Billie Holiday
Wadada Leo Smith; Jack DeJohnette; Vijay Iyer
TUM Records TUM CD 060 (tumrecords.com)
The Chicago Symphonies
Wadada Leo Smith's Great Lakes Quartet
TUM Records TUM Box 004 (tumrecords.com)
Wadada Leo Smith is one of the most important artists of his generation. Although functionally a trumpeter, his real instrument is his far-reaching compositions, the artistry of which is subsumed in worlds that are aural and visual. Moreover the eloquent narratives that propel the elasticized rhythmic units that make up his iconic Ankhrasmation Symbol Language are so intensely and eloquently poetic that a literary dimension may also be ascribed to his musical art.
Smith rose to eminence when he became a very early member of the Association for the Advancement of Creative Musicians (AACM), founded in Chicago by Muhal Richard Abrams. Then, with reeds master Anthony Braxton and violinist Leroy Jenkins, Smith began to create music that soared, outward bound. It began with his concept of rhythm units born of a belief that every musician participating in a musical excursion was a singular inventor in the congregate setting of ensemble music. This led to a musical canon that grew spectacularly with every new work.
More than 50 albums later and celebrating his 80th year around the sun, Smith has led various ensembles to produce three new releases – the 3-CD solo Trumpet, Sacred Ceremonies with Milford Graves and Bill Laswell (reviewed by Ken Waxman in The WholeNote Vol.27/1) and the 4-CD The Chicago Symphonies with Smith's Great Lakes Quartet included below – plus a single album that brings together drummer Jack DeJohnette and pianist Vijay Iyer in a unique collaboration titled A Love Sonnet for Billie Holiday.
Each of the members of this latter trio brought pieces to explore during this musical encounter. The uniqueness of Smith's art is in what might be referred to as the small print – the intimate moments that only a genuine artist understands and has the ability to inspire in others. We experience majesty in his The A.D. Opera: A Long Vision with Imagination, Creativity and Fire, a dance opera (For Anthony Davis). Iyer's Time No.1 and DeJohnette's Song for World Forgiveness are also impressive. Throughout the album phrases are tellingly placed, every colour skilfully applied, whether with a subtle smudge of the thumb or the bolder stroke of the brush.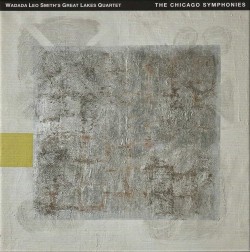 The Chicago Symphonies box set comprises four separate extended works of epic length. Each symphonic work is unique; Black History lessons told in song. The significance and matchless nature of each orchestral work expresses the birth pangs and often painful nature of the African-American in history from Lincoln to Obama, steeped – and expressed – in the Blues. It is impeccably performed by Smith with Jack DeJohnette and Henry Threadgill, a titan of music expressed in woodwinds and reeds, together with bassist John Lindberg. Saxophonist Jonathon Haffner replaces Threadgill on Symphony No. 4. Each work is rendered with ruminative prayerfulness and unforced rhetoric. You'll hear throughout – especially on Symphony No. 2 – the kind of textural complexity, intuitive pacing and abstract brilliance of melody, harmony and rhythm, grounded in piercing sunbursts of luminosity, that takes your breath away.