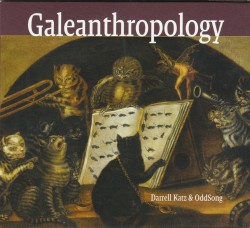 Galeanthropology
Darrell Katz & OddSong
Jazz Composers Alliance JCA1806 (darrellkatz.com)
Any considered exposé of Darrell Katz's oblique, still under-appreciated genius is always welcome, especially one that is inspired by – and evocative of – his late wife, Paula Tatarunis' poetry. Galeanthropology is an elliptical metaphor that connects Katz's literary and musical pursuits, from the conventional to the experimental, the mechanical to the emotional. Making a leap from that almost illusionary promontory, this repertoire traces an evolutionary arc as if falling off a proverbial cliff and is comprised of elongated melodic, harmonic inventions with the rhythmic aspect provided by the radiant mallet percussion colours of the marimba and vibraphone.
Tatarunis' extraordinarily expressive poetic canvas derives from life as a jazz cat and her lyrical canticles come alive together with Katz's stylishly delivered instrumental contributions. Making the most of Tatarunis' deeply elegant poems requires a particular sensitivity to linear shape, lyrical articulation and clarity of texture, not least in order to infuse it with the pungency of the harmonic language that this music breathes into it.
The most striking example of this is certainly not restricted to the song Galeanthropology with its quote from Charlie Parker's iconic, Ornithology. Katz's ingenious hipness comes alive on his especially free-floating take on Charles Mingus' Duke Ellington's Sound of Love, James Taylor's Sweet Baby James and the traditional I Am a Poor Wayfaring Stranger; the latter being a profoundly consequential musical experience for the listener. The elegantly idiomatic performance all around is fronted by Rebecca Shrimpton's lustrous, poignantly executed vocals.