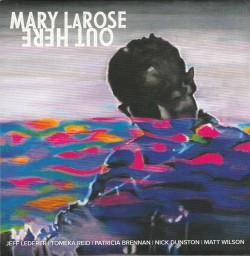 Out Here
Mary LaRose; Jeff Lederer; Tomeka Reid; Patricia Brennan; Nick Dunston; Matt Wilson)
little(i)music (littleimusic.com)
After his two-year stint with Chico Hamilton's band, clarinetist, flutist and alto saxophonist Eric Dolphy rose to eminence in the iconic bands of Charles Mingus, John Coltrane and Booker Little, becoming known as much for his forward-thinking harmonic and rhythmic conception, as for his lyrical, human-speech-like solos on bass clarinet and flute.
Mary LaRose, a remarkable artist in her own right, captures all of Dolphy's character and artistry into an eerily prescient vocal album featuring prominent – and lesser-known – repertoire from Dolphy's unique canon, adding lyrics, brilliantly executed polyphonic vocalese and singing throughout. Another striking aspect of this music is the sensuality of sonority, confirming without question that Dolphy was an absolute master of orchestral language with a subtlety of timbre.
Jeff Lederer's arrangements of the charts on Out Here capture the majesty of Dolphy's music revelling in its extravagance, while the group comprising cellist Tomeka Reid, vibraphonist Patricia Brennan, bassist Nick Dunston and drummer Matt Wilson deliver strongly committed, full-blooded performances.
But make no mistake, this recording is launched into the stratosphere by the high jinks and vocalastics of LaRose. Her visionary aesthetic and idiomatic performance is behind the kinetic energy of the album's most memorable songs: Gazzelloni and Music Matador, the latter featuring trombonist Jimmy Bosch and percussionist Bobby Sanabria. Warm Canto – with its clarinet choir, including Isaiah Johnson and Cameron Jones, lifting aloft LaRose's contrapuntal vocals – is the album's crowning glory.