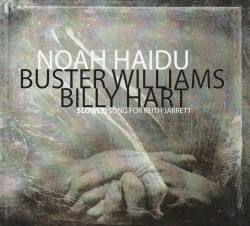 Slowly – Song for Keith Jarrett
Noah Haidu; Buster Williams; Billy Hart
Sunnyside Communications SSC 1596 (noahhaidu.com)
Few pianists in contemporary jazz have dominated the concert grand piano like Keith Jarrett, an artist of the first order, who was riveting in solo performance and similarly thrilling with his longstanding trio, comprising bassist Gary Peacock and drummer Jack DeJohnette. The death of Peacock and the pianist's rapidly declining health have meant that the world will be deprived of one of the greatest, most versatile performing artists in recent memory.
To pay homage to someone with such an outsize artistic personality would seem to be an enormous challenge, the task made even more daunting because of the choice to show respect for Jarrett by playing in a trio format. But not so much for the prodigious piano virtuoso Noah Haidu, who could not have picked better musicians for this venture than venerable bassist Buster Williams and drummer Billy Hart.
Haidu attempts to retain the emotional intensity and depth of characterization of Jarrett's work, without emulating his idol on the album Slowly. To do otherwise would have been ill-advised given the distinctive nature of Jarrett's improvisatory playing. Rather, Haidu impresses with a more discursive style featuring idiosyncratic pitching and a tone that seems to evaporate in short transcendent phrases. The repertoire is wisely chosen and the album includes the appropriate and thematic Air Dancing, a balletic composition by Williams; Lorca, an elegiac piece by Hart; and Haidu's eloquent composition Slowly. The album's apogee is Jarrett's wistful composition Rainbow.