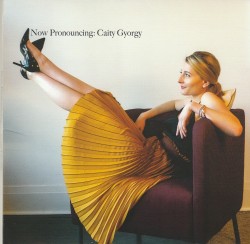 Now Pronouncing
Caity Gyorgy
Independent (caitygyorgy.bandcamp.com)
Full disclosure: I know Caity Gyorgy from her time in Toronto when she was a college student. That said, whether you are previously familiar with Gyorgy and her marvellous vocal and musical abilities or you are new to her considerable talents, time listening to Now Pronouncing is indeed time well spent for jazz and vocal fans alike.
This short recording, five songs in length, may be a manifestation of her degree-end capstone school project, but it is anything but an academic student affair. Leading a top-shelf, large-sized professional musical ensemble through a program of original compositions and arrangements, Gyorgy states a melody and lyric with aplomb and, as on Secret Safe, trades improvisatory lines with the assembled and stacked roster of horn players, demonstrating her clear mastery of the bebop and jazz language. And while I have no doubt that she is capable of singing just about anything, regardless of style or genre, how refreshing it is to hear a jazz singer be a jazz singer, foregrounding scat singing, swing, ornamented bebop vocal lines and total band leadership from out front on this fine recording.
Backed capably by a great Toronto rhythm section of Felix Fox-Pappas (piano), Thomas Hainbuch (bass) and Jacob Wutzke (drums), Gyorgy, who has since relocated and is now showcasing her talents on the Montreal jazz scene, demonstrates why this Calgary-born singer is a talent worth watching regardless of the city in which she takes up residence.