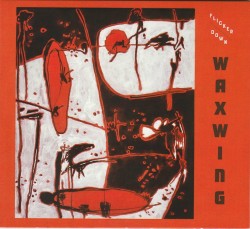 Flicker Down
Waxwing
Songlines SGL1633-2 (songlines.com)
Formed in 2007, Waxwing is a co-led trio created by three veterans of the Vancouver music scene: Tony Wilson on guitar, Peggy Lee on cello and Jon Bentley on saxophones. Flicker Down is the third album from this energetic group: not just veterans of the busy Vancouver scene where they are based, individually these three players collaborate in dozens of other musical combinations from folk to jazz to classical around North America and beyond. When they reunite, each brings their best in not only their playing experience, but as equal composers and co-leaders. The result of this fine balance is exquisitely produced on this album. Already a huge fan of this trio, and though their first two albums were thoroughly enjoyable, Flicker Down is a whole other listening experience.
As improvisers, the group keeps their freshness alive with a freedom of expression and a nuanced sense of timing that decades of experience has only heightened. With several manipulated improvisations added to some tracks, this album has a more composed feel but manages to retain the creative freedom and melodic flow that the group is revered for. As cultural travellers, there is a flavour of world music mixed with jazz, folk and contemporary composition, sublimely polished with fine chamber playing. With 18 beautiful tracks there is a plethora of favourites. Montbretia Gates (1'49"), featuring guest flutist Miranda Clingwall, is one of many gems. The decisiveness of Highway of Tears – based on lyrics that concern the murder of Indigenous women – avoids sentimentality and keeps clear the social messaging. Each player's technical execution is sheer perfection; gorgeously subtle mixing and production from Bentley only raises the bar.