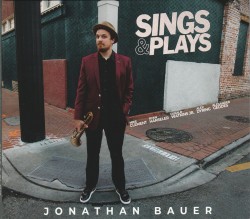 Sings & Plays
Jonathan Bauer
Slammin' Media (jonathanbauermusic.com)
Renowned Canadian-born, New Orleans-based trumpeter Jonathan Bauer is exposing a new artistic side on this newest release – a smooth tenor voice that both rivals and adds to his talents on the horn. Featuring well-known musicians such as Mike Clement, Gerald Watkins Jr. and Ryan Hanseler, this sultry and classy album is one that any jazz lover would want in their collection. The selection of songs by classics, ranging from Henry Mancini to George Gershwin, does a great job of not only showcasing Bauer's skills as a leader, trumpeter and now as a vocalist, but also the superb talents of the all-star lineup that backs him.
Sonorous, silky horn melodies lead the listener through staples of the genre like Days of Wine and Roses and Love is Here to Stay. For those that are familiar with the musician, the unique dark and buttery tone that he conjures out of the trumpet, almost reminiscent of the flugelhorn, is back in full force throughout the record. What makes Bauer stand out even more is the way that the happiness and bliss he pours into his instrument clearly translates into his vocals, his voice having the same soaring, joyous quality that the trumpet melodies invoke. The album is a fabulous introduction to this side of the famed artist's talents and leaves the listener excited to hear more, both instrumentally and vocally, in the future.