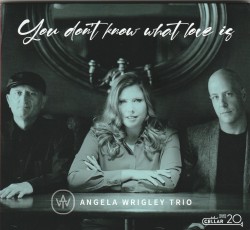 You Don't Know What Love Is
Angela Wrigley Trio
Cellar Music CM051920 (cellarlive.com)
On her impressive debut offering, Alberta chanteuse, pianist and composer Angela Wrigley has come forth with a delightful recording that incorporates funky, horn-infused original compositions with tasty standards, reimagined for a contemporary audience. Joined by her fine trio members, Derek Stoll (bass/piano/organ) and Dave Lake on drums, Wrigley also welcomed percussionist Bob Fenske, saxophonist Cory Weeds, trumpeter Vince Mai and trombonist Rod Murray. This clever and appealing project was also produced by longtime jazz-focused record-label visionary Scott Morin and master saxophonist, producer, recording label owner and jazz impresario, Weeds.
The opening salvo, How Did I Get Here, is a funky original composition, in which Wrigley's warm and soulful pipes wind themselves around this siren song of compelling lyric and melody. Mai infuses the arrangement with both sexy muted trumpet and a large, mouth-pieced Latin sound. Another intriguing original track is Crazy Fool – a nostalgia-tinged tip of the hat to Tower of Power and other funky horn/vocal bands of the 70s and 80s. Stoll's classic Fender Rhodes sound is as refreshing as it was back in the day.
Other standouts include Hoagy Carmichael's moving I Get Along Without You Very Well, in which Wrigley utilizes her sweet, vulnerable upper register, while Weeds cries through his horn in delicate counterpoint; also a bluesy, B3-infused Lover Man; the superb title track, featuring pristine vocals and Stoll's eloquent piano work; and finally Drive, where composition, performance and arrangement merge in perfect symmetry. This CD is a beautifully constructed first release that clearly establishes this talented new artist's identity and sound.