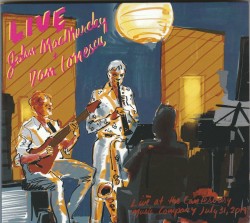 Live
John MacMurchy; Dan Ionescu
Independent (johnmacmurchy.bandcamp.com)
Performing music with friends in the intimacy of a celebrated studio appears to be among the greatest joys of a practicing musician. This is certainly demonstrated by woodwinds specialist John MacMurchy and guitarist Dan Ionescu. Live (at the Canterbury Music Company) allows the two musicians to probe the dark and light recesses of the art of the duo; to enter private worlds in which sadness and joy, and despair and hope, are shared in the most striking terms.
Both MacMurchy and Ionescu express their virtuosity and evoke dramatic and psychological atmospheres in a manner so alive that the musicians seem to be looking over their shoulders, pursuing – and being pursued by – one another, each with a sense of urgency and anticipation marked by rhythm and colour. The idea of interpreting standards – extended to cover the musical topography of Brazil – is central to this disc. However, it is also clear that this is an ode to songfulness. The apogee of this record may be Ionescu's and MacMurchy's exquisite composition For the Love of Song.
MacMurchy's smoky articulation is beautifully suited to the woody tones of the clarinet, and to I'm Old Fashioned, with which he opens the disc. The warmth of his playing, breathy phrasing and softly lingering vibrato, extends to the tenor saxophone as well. Meanwhile Ionescu proves to be a perfect musical partner, his tone redolent of a luminosity that marks his single-note lines and chordal playing.