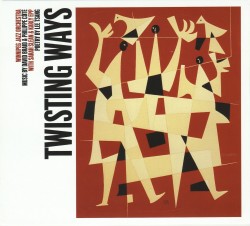 Twisting Ways
Sarah Slean; Karly Epp; Winnipeg Jazz Orchestra
Winnipeg Jazz Orchestra WJOCD0005 (winnipegjazzorchestra.com)
This Winnipeg Jazz Orchestra recording has been an exciting assignment to review, as it features a core of local musicians alongside guests from Montreal, Toronto, New York, and the work of Liverpool UK conductor, baritone and poet, Lee Tsang. For years I have known the work of Phillippe Côté, David Braid, Mike Murley and Stephan Bauer, the four guests from this side of the Atlantic. It is also always a pleasure to write about Winnipeg, which I described in a December review for The WholeNote as having "a long thriving music scene, unfairly receiving less attention than other large Canadian cities' communities". This still holds true of the aforementioned midwestern metropolis, but ideally large projects like Twisting Ways and its myriad out-of-town guests will help bring this vibrant arts community more of the notoriety it deserves.
Despite having spent ample time visiting friends, family and fellow jazz musicians in Winnipeg, I was aware of surprisingly few names on this project's personnel list. This is rather refreshing, given the consummate professionalism heard here. Vocalists Sarah Slean and Karly Epp breathe beautiful life into the often-challenging melodies they are presented with and the WJO's excellent rhythm section makes even the most intricate of grooves sound accessible. The four tracks that make up the Twisting Ways suite are some of my favourites on the album, but Lydian Sky and Fleur Variation 3, are far from disappointing as well.