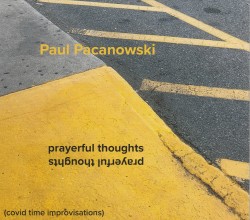 Prayerful Thoughts (covid time improvisations)
Paul Pacanowski
Independent (paulpacanowski.com)
Polish born Toronto-based multi-instrumentalist jazz/classical performer/composer Paul Pacanowski is inspirational in his 57-minute solo "covid-time improvisations." Home recording has become more popular for musicians during COVID. As he writes on the CD cover, he would play improvs in his basement studio late at night to lift his COVID-time spirits until it "dawned" on him to record his work at home. He plays all the instruments in eight tracks/sections, each introduced by a short musical wave-like undulation, all joined together as one long work.
Pacanowski's piano expertise drives the improvisations. Calming, repetitive 1. undulation leads to reflective jazz-flavoured slow 2. piano with long phrases, shifting tonalities, conversational high and low pitch runs and detached notes. From calm to faster intense moments, a shift to major tonality closer to the end creates a happier hopeful feel of COVID ending. Two other piano-only tracks are included.
Pacanowski takes a memorable musical leap to improvise with himself playing on other instruments. In 8. flute/piano, he breathes life into dramatic high, held-flute notes, detached sections and energetic, almost new-music sounds, as his piano mimics and supports in modern jazz at its very best. More jazz with a brief atonal section in alto saxophone and piano stylings in 14. alto sax/piano. He plays clarinet, keys and piano harp elsewhere.
Pacanowski's well-thought-out "home-made" jazzy compositions and improvisations make for a great release to listen to, both upfront and as background music.