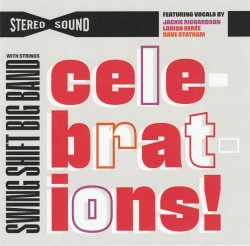 Celebrations!
Swing Shift Big Band; Jackie Richardson; Larisa Renėe; Dave Statham
Palais Records SSBB2021CD (swingshiftbigband.com)
The homegrown, nationally acclaimed Swing Shift Big Band has been operating for 25 years and in these tough times has released a wonderful album full of all-time favourites from the genre that are sure to get any listener toe tapping right along. Led by multi-instrumentalist Jim John, through interesting and unique arrangements of well-known pieces, the band does a great job of breathing new life into a genre that can often get pushed slightly to the background. The listener is taken on a time-travelling journey of sorts, one that is just the perfect getaway paired with warmer weather and quickly approaching summer.
The record starts off with a bossa nova classic Summer Samba, a sultry and rhythmic piece with scintillating solos by tenor saxophonist and musical director Jeff Pighin, as well as lead trombonist Rob Williams. Compared to the original, Swing Shift's version may even become the preference for some due to the organ melody being replaced by a softer and mellower combination of trumpets, alto saxophones and trombones in this rendition. In Here's to Life, renowned vocalist Jackie Richardson lends her rich and soulful voice to bring a melodious jazz ballad to new heights; the subtle yet poignant big band accompaniment pairing perfectly with her timbre. For any jazz fans looking to renew their interest in the big band subgenre or for new listeners alike, this album is a definite must.