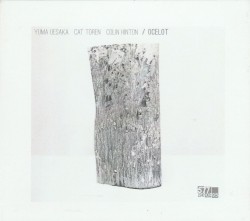 Ocelot
Yuma Uesaka; Cat Toren; Colin Hinton
557 Records 5859 (557records.com)
With its gorgeous sweeping melodies and fine ensemble communication, this album was juicy listening from start to finish. Sax/clarinet player Yuma Uesaka, Canadian pianist Cat Toren and drummer/percussionist Colin Hinton deliver a finely arced album, each track a diverse departure from the last but cohesive as a whole. Well known as individual jazz improvisers around the New York scene, the trio has gelled to create this gorgeous debut album, co-composed by the group, a culmination of a year's worth of composing, rehearsing and touring, including a 2019 residency that allowed them to deepen their chemistry and work on the material for the album. This is an ensemble cast; three skilled players and improvisers whose trust in each other shows in the delicate patience and fine balance throughout the album.
It's impossible to name a favourite track. Daimon ll is a solid opening, with melodic and deep, pulsating support for the soaring sax. The broadly sweeping Factum is a great listen, compositionally perfect and beautifully played, while Post is mesmerizing and fun. Anemone is tightly constructed and finely mixed; Iterations shows the group blowing off steam. Sequestration is contemplative and spacious, with stunning sonorities, and Crocus leads us to a beautiful closing.
Throughout the album, Hinton's percussion never overpowers the other two, showing a fine sense of balance that manages to never sound held back. All three players show a remarkable patience for the natural expansion of the melodic content.
This vibrant trio delivers an authentic and welcome breath of fresh air at the beginning of what will hopefully be a long and fruitful flight.