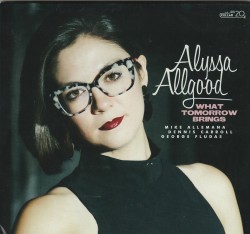 What Tomorrow Brings
Alyssa Allgood
Cellar Music CM012121 (cellarlive.com/collections/all)
With this, just her third studio recording, Alyssa Allgood declares that she is comfortable in her own vocal skin and has also raised her game to become an artist of the first order. On What Tomorrow Brings she shapes the lyrics of these songs with élan, intelligence and passionate engagement, infusing fluid melodies with both a storyteller's sense of detail and a dramatist's sense of theatricality.
The chosen repertoire features beautifully crafted arrangements of beguiling variety and sensuousness, expertly voiced in Allgood's lovingly caressed phrasing. Listening to the way in which she seductively bends the notes in There Are Such Things and Memories, and how she sculpts the sustained inventions of Bridges, it's clear that there's not a single semiquaver of these melodies that hasn't been fastidiously considered. Moreover – speaking of theatricality – Allgood turns into a quite riveting siren as she voices the character in Noel Coward's Mad About The Boy, all but transforming what is usually a playful song into something darkly dramatic.
Allgood's trio – guitarist Mike Allemana, bassist Dennis Carroll and drummer George Fludas – is completely attuned to her vision and artistry. The performances of each of the musicians melt eloquently into the vocalist's highly expressive melodic stories. Melodies are intimately woven into filigreed lines from Allemana's guitar, echoed in the rhythmic musicality of Carroll's bass and Fludas' drums. The music soars throughout, ending in Passing Glance, a powerful climax to this memorable album.