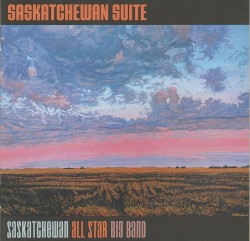 Saskatchewan Suite
Saskatchewan All Star Big Band
Chronograph Records CR-094 (chronographrecords.com/artists/saskatchewan-all-star-big-band)
The darkly passionate sound of creation gives rise to long-limbed rhythmic excitement that builds, one melodic and one harmonic variation at a time into this homage to Saskatchewan. Fred Stride's exquisitely visual, ever-swinging eight-part narrative – the Saskatchewan Suite – is one of the best long works to be put down on record in a long time. Significantly, almost all the band members are homegrown Saskatchewanians.
The symphonic music is powerfully and lovingly delivered by musicians who bring a deeply interiorized reading of Stride's homage to a Canadian prairie province in a composition that is astutely and idiomatically driven by improvisation. The atmospheric opening movement describes seemingly endless vistas and melts into a series of big-boned movements that depict the fascinating character and history of Saskatchewan. What could have been dry music because of the density of its subject is lifted off the page with the passionate advocacy of this Saskatchewan All Star Big Band, which – in soli and ensemble passagework – brings uncommon tonal refinement to this epic piece.
Beautifully executed contrapuntal writing weaves in and out of free-flowing sections. Especially noteworthy is Thank You, Mr. Douglas, a tribute to the iconic premier of the province, Tommy Douglas, father of Canada's universal healthcare system. Tempi, ensemble and balance – all seem effortlessly and intuitively right as this group of some of the most celebrated Canadian musicians parley with extraordinary eloquence and power building up to the suite's dénouement, so appropriately entitled Saskatchejazz.