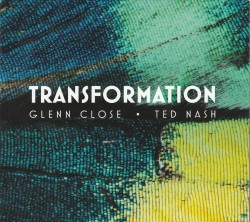 Glenn Close; Ted Nash – Transformation
Glenn Close; Ted Nash; Wayne Brady; Amy Irving; Matthew Stevenson; Eli Nash; Wynton Marsalis; Jazz at Lincoln Center
Tiger Turn Productions (tednash.com)
This ambitious, multi-disciplinary recording project was co-imagined, produced, arranged, composed and conducted by Grammy winner and gifted multi-reed instrumentalist, Ted Nash. All of the accompanying spoken word segments were curated by Emmy- and Tony-winning actress Glenn Close, and performed by Close and a group of truly exceptional artists, including Wayne Brady, Amy Irving, Matthew Stevenson and Eli Nash. The skilled musical cast includes noted members of the Jazz at Lincoln Center Orchestra (JLCO), including the iconic Wynton Marsalis on trumpet.
Transformations begins with Creation, Part I. One can feel the contrapuntal influence of Gil Evans in this full-throttle, intricate, challenging music, as the ensemble slides through the primordial ooze. Creation, Part ll features the JLCO as they swing, wail and bop with exquisite precision. A sturdy and solid trombone solo punctuates the air, followed by a well-placed baritone comment or two. Dear Dad/Letter is the transcript of an incredibly moving letter to Nash from his transgender son, accompanied by masterful work on soprano sax by Nash. Other memorable movements include One Among Many, constructed around Judith Clarke's journey of liberation, as interpreted by the incredible Irving.
The justifiable rage and hurt, and subsequent illumination in Brady's A Piece by the Angriest Black Man in America (or, How I learned to Forgive Myself for Being the Angriest Black Man in America) is an awakening in itself, as is Reaching the Tropopause – which features a face-melting rhythm and sax sections in concert with the dynamic Wynton Marsalis on trumpet. Ted Nash, Glenn Close, the gifted actors and the nothing-short-of-exquisite musicians of JLCO cement this recording as an artistic triumph.