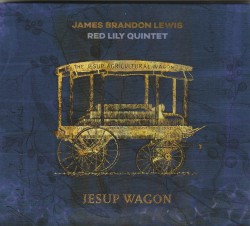 Jesup Wagon
James Brandon Lewis; Red Lily Quintet
Tao Forms TAO 05 (jamesbrandonlewis.bandcamp.com/album/jesup-wagon)
James Brandon Lewis was voted Rising Star – Tenor Saxophone in the 2020 DownBeat magazine's International Critics Poll. His tone is urgent and emphatic and Jesup Wagon, recorded with his Red Lily Quintet, is his ninth release. The title refers to the wagon built by George Washington Carver to travel the Alabama countryside and teach farming techniques. It was a travelling road show of science and hope and Lewis' seven compositions are based on Carver's words and experiences. The quintet includes William Parker (bass), Chad Taylor (drums), Kirk Knuffke (cornet) and Chris Hoffman (cello). The lack of a chordal instrument like piano or guitar gives the group an open sound which, combined with Knuffle's cornet and Lewis' tone, reminds me of the early Ornette Coleman group with Don Cherry playing pocket cornet.
The detailed liner notes describe both the music and how each work refers back to Carver's ideas and legacy. For example, Lowlands of Sorrow is Carver's phrase from when he discovered the extreme poverty of farmers in Macon County. Lewis' saxophone is wailing and, with Knuffke's cornet, blows forth a song of suffering. The melody and solos are deftly underscored by Parker's contrapuntal bass and Taylor's effortlessly polyrhythmic percussion. Fallen Flowers has a solemn opening melody which is soon contrasted by a playfully melodic and staccato theme tossed back and forth between sax and cornet. This back and forth movement continues throughout the piece occasionally making way for the soloists. Jesup Wagon ends with one of Lewis' recitations that could describe this intense and brilliant album as a whole: "Embedded seeds crack through tormented shells of one colour, giving birth to many hues."