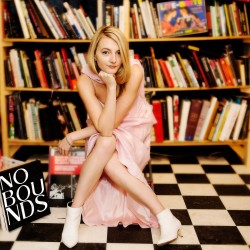 No Bounds
Caity Gyorgy
Independent (caitygyorgy.bandcamp.com/album/no-bounds)
While having a beautiful voice is plenty to recommend any singer, also knowing how to use it in the myriad ways that Caity Gyorgy does puts her high up the list of young singers to watch.
Although the debate about what is and isn't jazz is an old and often tedious one, it becomes especially tricky to nail it down when it comes to vocalists. Is covering standards enough to call yourself a jazz singer? Well, that's all moot when it comes to Gyorgy because she is unmistakably a jazzer. Just head over to her Instagram account, @liftaday, if you want to see what I'm talking about. There she posts videos of herself doing lifts – i.e. singing note-for-note – solos of jazz giant instrumentalists like Clifford Brown, Oscar Peterson and even Charlie Parker. She's posted 180 videos since 2018! It would be an impressive accomplishment for a mature singer but for someone only 22 years old, it's mind-blowing.
As well, her improv skills – the attribute that seals the deal for jazz credentials – are undeniable and on full display throughout her debut release, whether soloing over choruses or trading fours with her band members: Jocelyn Gould, guitar, Thomas Hainbuch, bass, and Jacob Wutzke, drums.
But Gyorgy isn't all technique and prowess; she also has a ton of musicality and heart. These shine through on the songs she's written herself like Postage Due which has a cute 60s vibe and Undefined, the only ballad on the album.
Despite the serious skills Gyorgy possesses she never gets too heavy and the overall feel of No Bounds is upbeat, warm and utterly charming.