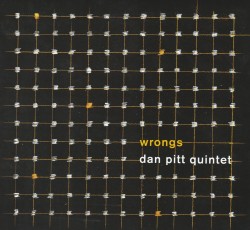 Wrongs
Dan Pitt Quintet
Dan Pitt Music DP003 (dan-pitt.com)
The tracks on Wrongs, from the Dan Pitt Quintet, are moody and textured as they move forward through shifting soundscapes that are intense and intriguing. Pitt, a guitarist/composer living in Toronto, has put together a cohesive and talented group including bassist Alex Fournier and drummer Nick Fraser from his trio. The addition of Naomi McCarroll-Butler on alto sax and bass clarinet, and Patrick Smith on tenor and soprano saxophones, creates some fabulous textures. For example, on Shadows Loom, the bass clarinet and tenor sax combine organically for a nice mid-range opening harmony; then we have a nuanced bass clarinet solo followed by Smith's wailing tenor with a few multiphonics thrown in. The piece ends with a blistering and over-driven guitar solo by Pitt.
Wrongs' tracks evolve from one mood and collection of sounds to another which makes the listening experience a series of discoveries. Hunter's Dream begins with a long, bowed bass intro, What Is opens with a whimsical guitar solo. Wrongs starts with a funky and off-kilter guitar and closed hi-hat/snare rhythm which persists under a bowed bass and sax/clarinet riff. Soon Pitt has changed to an ostinato pattern, Fraser is propulsively swirling through his entire kit and Smith is tearing through another terrific and intense solo. And then sudden quiet and introspection, before building towards its kinetic, yet tight ending. Pitt's seven compositions are inventive and subtle; they, along with the quintet's superb musicianship, make Wrongs so very right!