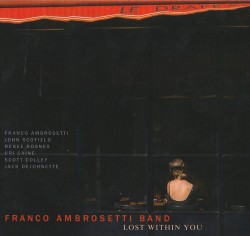 Lost Within You
Franco Ambrosetti Band
Unit Records UTR 4970 (unitrecords.com/releases)
World-renowned Swiss trumpeter and flugelhornist Franco Ambrosetti has released a sultry and smooth collection of jazz ballads that take you to a faraway musical world into which it's easy to escape in these trying times. The flowing and pleasant notes that the gifted musician conjures from his golden horn perfectly mimic and showcase his "refined and poised" nature and beautifully simplistic yet poignant approach to making music come alive. Supported by a sublime backing band featuring equally famed names such as John Scofield on guitar and Scott Colley on bass, Ambrosetti's own tunes as well as classics by Horace Silver and Miles Davis, among others, are taken to new heights.
The record opens with Silver's jazz standard Peace, a song that positively makes you sway along as Scofield's melodious riffs and a softly soaring horn tune layered over Renee Rosnes' mellow chords on the keys take you on a velvety musical journey. Silli in the Sky is a Latin-flavoured piece lovingly written about Ambrosetti's actress wife; Jack DeJohnette's quietly sizzling drum groove combined with lovely guitar and horn solos add just the right amount of edge to give a fiery undertone to the tune. Closing out the album is You Taught My Heart to Sing, tinged with slight melancholy but just the right amount of movement in the more up-tempo parts of the song to convey hope, ending it all on a positive and warm note.