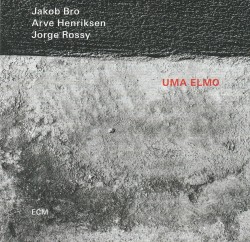 Uma Elmo
Jakob Bro; Arve Henriksen; Jorge Rossy
ECM ECM 2702 (ecmrecords.com/shop)
In the 50 years of producing music for his ECM label, Manfred Eicher has established a rubric that almost no one thought to create before him. It is characterized by a minimalist aesthetic, with sonic works delivered in almost pristine digital sound. There is almost always superb, impressionistic cover photography, rarely any liner notes (except for the odd Egberto Gismonti album). Booklets often feature graphics and an oblique, poetic line or two that seem illuminated by a translucent and shy ray of the sun.
This is exactly the feel of Uma Elmo by Jakob Bro, Arve Henriksen and Jorge Rossy. Put together, the two-word title might be translated as "the splendour or tranquillity (Uma) of love (Elmo)." The music has a profound and meditative quality; songs bloom into a series of exquisite miniatures. Bro's single-note lines are spacey; they shimmer and gleam, occasionally warmed in the blue flame of Henriksen's horns. Meanwhile Rossy bounces brushes and sticks in rhythmic flurries and glancing blows across the skins of his drums.
Songs such as To Stanko – a doffing of the hat to the late horn player Tomasz Stanko, beloved by ECM – Morning Song, Music for Black Pigeons (in memory of Lee Konitz) and Sound Flower, are typical of this musical performance in the splendid isolation of a studio in Switzerland. Purity of sound and an enduring love of artistic expression are all over the music of this album.