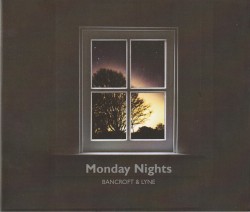 Monday Nights
Sophie Bancroft; Tom Lyne
LisaLeo Records LISALEO 0901 (bancroftlyne.com)
Scottish singer/songwriter/guitarist Sophie Bancroft and her husband, Canadian bassist/songwriter Tom Lyne, are respected UK-based musicians whose latest release was inspired by their weekly COVID-isolation, Monday night livestream sessions from their living room begun in spring 2020. The five originals and five covers here were recorded perfectly at Castlesound Studios.
The covers are their own very personal take of famous tunes. Highlights include Cole Porter's You'd Be So Nice To Come Home To, with a moving bass backdrop supporting the virtuosic scat singing and subtle vocal back phrasing; and a happy and positive feel for our difficult times in their rendition of Lerner and Lowe's On The Street Where You Live. Bancroft sounds like she is singing only to her husband in the folksier emotionally charged Tom Waits' tune Grapefruit Moon.
Lyne's composition, Far From Mars, is a great jazz tune featuring his electric bass playing. Wish it was longer!! Bancroft's Fragile Moon is slow, peaceful and delicately performed. Her Miles Away is so COVID isolation, with its storytelling lyrics about love at a distance and pitch leaps adding to the feeling of loneliness. Blue Room is mellow and enticing. Comfort, with more folky singalong qualities and repeated descending vocal melody, has a stress-busting calm, controlled feel.
Bancroft and Lyne are first-class jazz performers, improvisers and songwriters. Their performances here are upbeat, musical and subtle, and surprisingly made me totally forget our COVID outbreak isolation lockdown.