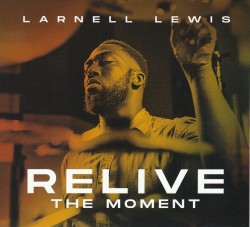 Relive the Moment
Larnell Lewis
Independent LLM 002 (larnelllewismusic.com)
Born and raised here in Toronto, internationally famed drummer Larnell Lewis has released a scintillatingly snazzy new album of funk and neo-soul goodness that has the power to bring any listener right out of the day-to-day rut brought on by everything that's going on in the world right now. Featuring legends such as fellow Snarky Puppy band members Mark Lettieri and Shaun Martin, as well as renowned names like Robi Botos and Rich Brown, the album has a star-studded lineup that carries Lewis' compositions to new heights. The record acts as a "reimagining of six compositions from [his] debut album In The Moment," in Lewis' own words, with most pieces having updated drum tracks recorded and only one composition being completely new.
Right off the bat, the first track, Rejoice, starts the listener off on a funk-filled journey with Andrew Stewart's catchy bass line and Lettieri's soulful guitar riffs taking us to a higher musical dimension. No Access takes a different turn, diving full force into modern jazz with soaring trumpet melodies courtesy of William Sperandei and Botos' pianistic skills being brought clearly to the forefront throughout the fast-paced piece. Closing out the album is the aforementioned new composition, The Forgotten Ones, a piece that is essentially one long drum solo showcasing the drummer's percussive talents and highlighting an Afro-Caribbean drum groove that serves as a fitting end to a stunning collection of compositions.