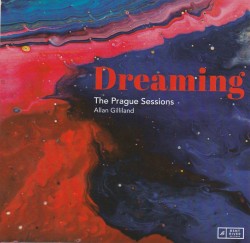 Dreaming: The Prague Sessions
Allan Gilliland
James Campbell; PJ Perry; Chris Andrew; Neil Swainson; Dave Laing; Prague FILMharmonic Orchestra; Raymond Baril
Bent River Records BRR-202001CD (allangilliland.com)
Approaching through-composed music with an improviser's bent of mind can prove to be quite a daunting task, especially when composer and improvisers are separate entities. Allan Gilliland is, however, eminently qualified to make this work with first-hand knowledge of both aspects of the musical process. This he certainly does on Dreaming: The Prague Sessions, featuring a Canadian quintet and the Prague FILMharmonic Orchestra.
Dreaming of the Masters I and Dreaming of the Masters IV suggest that Gilliland is drawn to the heritage of jazz music from New Orleans Second Line to swing and the legendary idiom of bebop. But these compositions are much more than trace elements of historic African American music melded together with orchestral music. Gilliland also makes clever use of contrafacts in Dreaming I, for instance, and he also goes further in Dreaming IV by building into that composition some very challenging rhythmic variations.
While Gilliland had access to an orchestra of conservatory-trained musicians adept at reading, he also landed in Prague with a highly literate Canadian jazz quintet comprising clarinetist James Campbell, saxophonist PJ Perry, pianist Chris Andrew, bassist Neil Swainson and drummer Dave Laing. Both quintet and orchestra seem made for each other. The result is thoughtful, melodic soloing bolstered by superb ensemble playing. A considerable degree of balance and integration of melody, harmony and rhythm, of composition and improvisation, of exploration, individuality and tradition are also impressively maintained throughout.