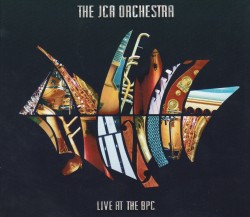 The Jazz Composers Alliance Orchestra – Live at the BPC
JCA Orchestra; String Theory Trio
JCA Recordings JCA1805 (jazzcomposersalliance.org)
Founded in 1985, the Jazz Composers Alliance (JCA) Orchestra feeds off the inspirational energy of its founder and director, Darrell Katz. However, over the years it has also played host to an impressive roster of (other) composers from Muhal Richard Abrams to Wayne Horvitz, thus earning itself an impressive reputation for growing and enhancing the art of orchestral jazz music.
This live recording from the Berklee Performance Center features repertoire that is an extraordinary testament to the lengths to which this collective will go to bring each contemporary large-ensemble work to life, while blurring boundaries between genres and challenging its musicians to interiorize music with a view to expressing what they play with idiomatic grace and power.
The performance is bookended by two compositions by Mimi Rabson: Romanople a mesmerizing and rhythmically challenging tale of the two cultures of Rome – Latin and Byzantine – and the rhapsodic Super Eyes – Private Heroes, which closes the set. Meanwhile, more magical moments come to life during each of the works in between; David Harris' inspirational melding of jazz and the sounds of a gamelan orchestra on The Latest; Bob Pilkington's The Sixth Snake that marks his 60th birthday, Japanese Kanreki-style; Harris' mystical Orange, Yellow, Blue which pays tribute to composer and revolutionary conductor Butch Morris; and Katz's reworking of his iconic composition A Wallflower in the Amazon, a remarkable musical setting of the late Paula Tatarunis' poem, eloquently sung, aria-like, by Rebecca Shrimpton. A rather compelling album indeed.