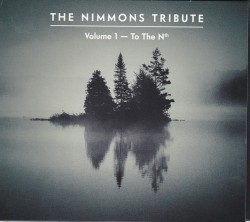 The Nimmons Tribute Volume One – To The Nth
Kevin Turcotte; Tara Davidson; Mike Murley; William Carn et al
Independent n/a (nimmonstribute.ca)
Forgive the tired expression, but Phil Nimmons needs no introduction. As far as contributors to the Canadian music landscape go, it would be hard to find many as seismic as Nimmons. I am sadly too young to have appreciated him first hand, but his legacy at 97 is such that I can still get a sense of his transcendence both through his music and through his countless talented former students who constantly sing his praises. Case in point is this new tribute album that combines the best of both aforementioned worlds. Featuring an astonishing roster, spearheaded by Nimmons' grandson and accomplished pianist Sean Nimmons, this album is a fitting tribute full of heart and brilliance.
Sean's arranging and production are a highlight, as this record's pristine sound allows for a modern, yet faithful, interpretation of his grandfather's music. Another bright spot is the sample of Nimmons' work selected for these recordings. Some of his finest compositions are featured spanning across multiple decades, which goes a long way to showcase the sheer scope of his prolific output. The Sean Nimmons-composed track Rista's Vista is the one outlier here, and serves as the album's centrepiece. Dedicated to his grandfather, it's a love letter to a man who continues to inspire.