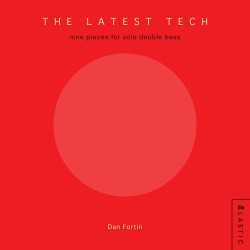 The Latest Tech
Dan Fortin
Elastic Recordings (danfortinthewebsite.com)
It seems to make sense that in the middle of a pandemic year, a solo upright bass album would be the perfect choice to record. Eliminating the band is a simple way to maintain physical distancing while exploring the many nuances of your instrument.
Dan Fortin has played with many groups and recorded multiple albums as sideman and leader and he currently teaches bass in the University of Toronto's jazz program. The Latest Tech pares away the other traditional jazz instruments and we can listen to the full, fat sound of acoustic bass. On the title song, a series of repeated ostinato patterns cycle through different tonal centres and slight alterations of rhythmic emphasis create an intriguing journey. Beautiful Psychic Dream has a loping and sustained minor-sounding melodic line which seems to hang and shimmer as it moves onward. Mega Wish opens with a faster series of repeated melodic fragments which become more dispersed and exploratory before picking up speed and ending with a final repetition of the opening phrase.
The Latest Tech is a clean and meditative album produced during a time when we can all use some music that is calming and thought-provoking.