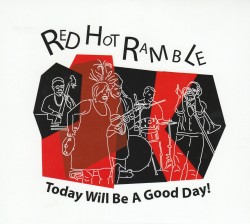 Today Will Be a Good Day
Red Hot Ramble
Independent RHR003 (redhotramble.ca)
Hope springs eternal, musically and figuratively, right from the title of this disc. Today Will Be A Good Day is what everyone needs, to be reminded of what the pandemic of 2020 took away not only from all of us, but from wonderful artists like these who create music with such vigorous positivity.
Red Hot Ramble may derive some of its spirit from the music of New Orleans, but the melodies and harmonies sing of stories that could be much more universal. Everything is brought to life magnificently in the vocals of the group's frontwoman, Roberta Hunt. Her performance in the gloriously dark and sinister Marie Laveau, for instance, is just one example.
Alison Young also dazzles not only with her versatility on various saxophones, but in the visceral energy (Liquid Spirit) and virtuosity (everywhere else) she displays on each variant. Jamie Stager's mournful trombone growls its bittersweet way throughout; and Jack Zorawski's bass and Glenn Anderson's drumming create an appropriately immutable rhythmic power.
The roster of guest stars is a stellar one. Accordionist and organist Denis Keldie, clarinettist Jacob Gorzhaltsan, trumpeter Alexis Baro and guitarist Kevin Barrett are inspired choices. All told, each musician plays every heartfelt phrase as if his (and her) life depends upon it. This makes for music with unfettered emotional intensity, full of funkified soul and joie de vivre. An album to die for.