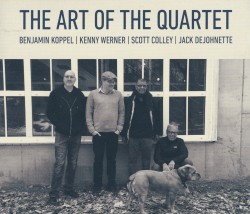 The Art of the Quartet
Benjamin Koppel; Kenny Werner; Scott Colley; Jack Dejohnette
Cowbell/Unit UTR 4958 (unitrecords.com/releases)
We've heard of the art of the duo and trio often enough, but perhaps not enough of the quartet. Certainly there has been very little musical exploration as significant as this, The Art of the Quartet, freewheeling explorations by the wizened majesty of drummer Jack DeJohnette and pianist Kenny Werner together with the derring-do of younger experimentalist, bassist Scott Colley; all of whom have been brought together at the behest of the superb Danish alto saxophonist Benjamin Koppel.
Koppel is possessed of an expressionistic wail and he uses it with tremendous effect throughout the repertoire of this album. His wild excursions flow like a river in flood and the yowling vibrato with which he often ends his phrases evokes restless northern spirits sweeping across space in powerful gusts of wind. Colley secures the roving melodies and harmonies like a singing sheet anchor; his evocative arco performance on Night Seeing is a testament to his virtuosity and his ability to bend time.
Werner is a master of atmospheric pianism. He plays with ceaselessly soft dynamics throughout the exquisite prosody of this music. The rippling excursions of his right hand are masterfully complemented by the architectural balance provided by his rock-steady left hand. DeJohnette, as ever, is the glue that holds everything rhythmic together. But every so often, putting his pianist's hat on, he adds delicate or thunderous harmonic inventions to this wondrous music.