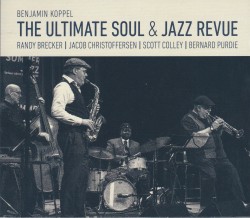 The Ultimate Soul & Jazz Revue
Benjamin Koppel; Randy Brecker; Jacob Christoffersen; Scott Colley; Bernard Purdie
Cowbell/Unit UTR 4959 (unitrecords.com/releases)
Renowned Danish saxophonist and composer Benjamin Koppel's latest release is a toe-tapping, upbeat trip into the soul and funk side of jazz, guaranteed to breathe life into any of the greyest days. Koppel has called together a stellar group of musicians to enliven each track, including greats such as Randy Brecker on trumpet, Jacob Christoffersen on the keys, Scott Colley on bass and Bernard Purdie on drums. The album features both songs composed by Koppel himself and new versions of classics by artists such as Dizzy Gillespie, Curtis Mayfield and Stevie Wonder. The saxophonist has done a wonderful job of bringing a modern touch and his own unique flavour to well-known tunes, shining a new light on them.
Them Changes starts off the record with a captivating groove set up by Colley's pizzicato bass line mingling with Purdie's driving groove, overlaid by Koppel's soaring riffs and Brecker's sonorous horn melodies. A spruced-up and funkier rendering of one of Gillespie's best known songs, Manteca is positively addictive with Christoffersen's use of the Fender Rhodes bringing just the right amount of the past into the present. Stevie Wonder's famed tune Don't You Worry 'Bout a Thing adopts a more jazz-influenced flavour than the original, bringing in a great play on the tune throughout, with Koppel's improvised solo being the cherry on top. A fantastic record as a whole, this would be a worthy addition to any aficionado's collection.