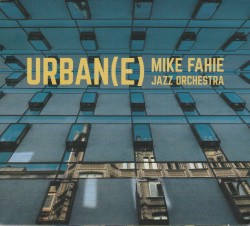 Urban(e)
Mike Fahie Jazz Orchestra
Greenleaf Music FRE CD 1077 (mikefahie.bandcamp.com)
Although the Mike Fahie Jazz Orchestra has been together in New York since 2012, Urban(e) is their first album. Fahie, who composed and arranged all the works along with playing trombone and euphonium, had a fascinating concept of rearranging classical works into a jazz orchestra context.
Of course one can think back to Deodato's Also Sprach Zarathustra, or ELP's Pictures at an Exhibition to know this concept has been around for a while. But Urban(e)'s strength is in Fahie's subtlety where his arrangements are always true to his source material, but sometimes that truth is more metaphoric than harmonic. His extensive liner notes provide great insight into his interpretive process. One highlight is Prélude, Op.28 No.20 by Frédéric Chopin (whose chords and style anticipate many elements of modern jazz). Chopin's prelude is only 12 bars, but Fahie rearranges it for his orchestra, then doubles the tempo twice and writes a new melody which works into a quietly swinging piano solo from Randy Ingram. Another gem is Excerpts from The Firebird which, over its 14 minutes, uses many motifs from Stravinsky's original. The piano mimics the firebird waking up and singing her song, the tempo picks up and as Ingram's scales and arpeggios become livelier the piece moves into an effervescent and lively tenor saxophone solo by Quinsin Nachoff. Midway through we have an introspective section with a beautiful euphonium and tuba duet (Fahie and Jennifer Wharton) where time seems suspended for a moment.
Urban(e) is an intelligent and sophisticated collection of jazz works which we can admire on their own, or from the context of their classical origins.