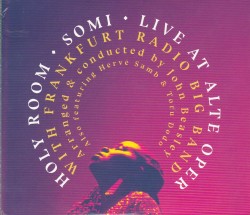 Holy Room – Somi Live At Alte Oper
Somi; Frankfurt Radio Big Band; John Beasley
Salon Africana (somimusic.com)
It has been six decades since the rebirth of Afrocentric musical matriarchy shepherded by Miriam "Mother Africa" Makeba in the 1960s. That flame may have flickered somewhat after her death, but has since been rekindled by such phenomenal artists as Angélique Kidjo and the women of Les Amazones d'Afrique, Rokia Traoré, Fatoumata Diawara and Sandra Nkaké. Now, with her third – and most spectacular recording – Somi joins this illustrious list of formidable women storytellers.
Somi is adept at traditional storytelling, a gift that African griots, griottes and gnawa healers have brought to music. It is something that reflects both the nurturing characteristic of women and their new, overarching influence as contemporary musicians. Somi reflects this awakening of feminine consciousness powerfully. Her performance in Frankfurt, captured here on the two discs of Holy Room, evokes the power of femininity and storytelling at their finest. Working her magic, bolstered by the empathetic playing of guitarist Hervé Samb and pianist Toru Dodo, Somi elevates her artistry to a rarefied realm.
She uses the power of her soaring soprano to dig deep into the meaning of the lyrics of Kadiatou the Beautiful, Like Dakar and Ingele. The bittersweet music of Alien and Lady Revisited is performed with potent evocativeness. The great German-American contrabassist Hans Glawischnig plays a masterful pizzicato introduction to The Gentry and the Frankfurt Radio Big Band, under the baton of the celebrated pianist and arranger John Beasley, is superb throughout.