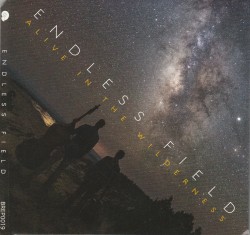 Alive in the Wilderness
Endless Field
Biophilia Records BREP0019 (endlessfieldband.com)
Two well-known NY players, Ike Sturm, bass, and Jesse Lewis, guitar, have teamed up together to become the duo Endless Field. Their album Alive In The Wilderness is a thoughtful road trip descriptive of our connection to the natural elements; songs which carry titles such as Life on Earth, Wind, Fire¸ Water… The album is beautifully played, with great energy and dynamic interaction between the players. Resonant bass and gorgeous lush melodies evoke a film score. With both of their backgrounds being in jazz, the album is a surprisingly laid-back, free-play wander around streams and underneath stars (literally); spontaneous feeling with lots of breath, some folk elements and some just genuinely beautiful storytelling.
The selections are diverse but manage to hang together with the earthly theme, helped by the continuous backdrop of running water or birds in many of the tracks. A road trip between friends, I especially enjoyed the rhythmic play in Zim and loved the looseness and the sweetness of the journey of Old Man.
The album comes as a download only, which is intended to save on plastic as well as the toxins used to create CDs, and all proceeds are donated to conservation. There is however a gorgeous hand-folded origami album sleeve available from the NY label Biophilia; their artists are united by a common interest in having a positive impact on the environment and communities, and collaborate with organizations that specialize in conservation, sustainability and outreach initiatives. Check them out, they do good stuff and represent some really top NY players.