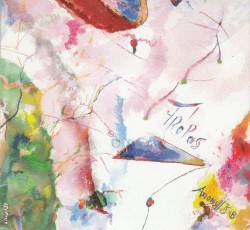 Axioms // 75 AB
Tropos
Biophilia Records BREP0017 (troposensemble.bandcamp.com)
The enigma of Axioms // 75 AB begins with the CD jacket which unfolds like an elaborate origami to ten panels: on one side is a mural which includes a quote from George Lewis, the other side contains track information, instrumentation, abstract diagrams and liner notes hand-printed in a small font. If you prefer clearly typed text, you can head to the Tropos Bandcamp site. In fact, you must head there anyway, because the CD jacket contains no CD, just a download code! Axioms // 75 AB is a tribute to Anthony Braxton on his 75th birthday (June of 2020). Of the 11 compositions, the first five are by members of Tropos while the rest are by Braxton and all contain both composed and collectively improvised elements. Vocalist Laila Smith, saxophonist Raef Sengupta, pianist Phillip Golub, bassist Zachary Lavine and drummer Mario Layne Fabrizio met at the New England Conservatory and created this album as a token of their love for Braxton's music. Many of Braxton's works have always presented an alternative and highly original reality for jazz: they certainly swing, yet are in a very different tonal realm to Stardust or Ornithology.
Tropos delivers exciting and intense playing and it is clear they are steeped in the tradition of Braxton, Ornette Coleman, Lewis and others. One quibble is that on some pieces, like Braxton's 23c, Smith's vocals add nuance while balancing with the rest of the group, but in other cases it is mixed too prominently and overshadows the collective.