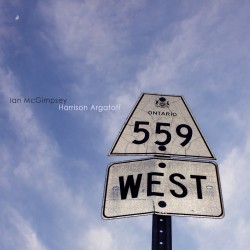 Ontario 559 West
Harrison Argatoff; Ian McGimpsey
Independent n/a (harrisonargatoff.com)

Nick Drake was a British singer/songwriter who released three albums and died in 1974. Since that time he's attracted a larger-than-cult following who have enjoyed his soft and melodic singing, subtle guitar playing and enigmatic lyrics. His third album, Pink Moon, was his most sparse with just guitar and vocals.
In March of 2020, Ian McGimpsey (guitar) and Harrison Argatoff (tenor saxophone) travelled on Ontario 559 West to Carling Township where they spent three days recording this album which is their tribute to, and interpretation of, Pink Moon. They have certainly captured the mood of Drake's final album with the intricate guitar parts and luscious and melodic saxophone lines. Ontario 559 West is a genuine homage to the earlier album but maintains its own identity: I listened to Pink Moon before Ontario 559 West and could not identify any specific song or melody that is covered in the later album. The interplay between McGimpsey and Argatoff contains elements of jazz, folk and some freer improvisation. At points Argatoff's playing and tone are reminiscent of Stan Getz (particularly in the final song Swings) and McGimpsey's guitar is clean and nuanced.
Ontario 559 West is an alluring concept which is executed by two sympathetic musicians.