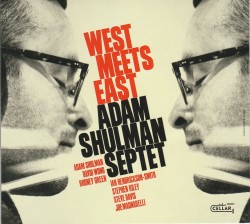 West Meets East
Adam Shulman Septet
Cellar Music CM110219 (cellarlive.com/collections/all)
San Francisco-based star pianist, bandleader and composer Adam Shulman has let his passion for the golden era of jazz shine with this latest release featuring a stellar gathering of musicians who really bring a unique light to each piece. With key talents such as David Wong on upright bass, Rodney Green on drums and Joe Magnarelli on trumpet, the tracks take on a life of their own, as everyone's contribution brings out a different facet and aspect within the sonorous melodies. The album does a great job of showcasing Shulman's talent as both a pianist and composer. Seven out of eight pieces are penned by him and bring forth a tremendous horn section balanced out by driving bass lines and sultry melodies from the keys.
The record starts off with a toe-tapping tune titled Nickel and Dimed and is a little wink at a "borrowed chord structure from Tin Pan Alley's Pennies from Heaven." It's a traditional swing piece that has an addictive groove to it carried forward by Green's constant shuffle, Wong's moving bass pizzicato topped off by Magnarelli's soaring and bright trumpet melody. Lean and Mean is a unique composition with the main tune following a stepped pattern that meanders along the scale and truly shines a spotlight on the gifted horn section in the septet. Traditional jazz flavour with a renewed breath and twist to it makes this album a new staple for any jazz enthusiast.