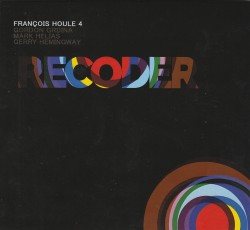 Recoder
François Houle 4
Songlines Records SGL1632-2 (songlines.com/release/recoder)
Canadian clarinetist/composer/improviser and all-round inspiring musician François Houle works here again with Canadian Gordon Grdina (guitar), and in first-time collaborations with Americans Mark Helias (double bass/clarinet) and Gerry Hemingway (drums). The eight free-improvised Houle/Helias clarinet duets, and seven full-band Houle compositions, are memorable in their smart stylistic modern jazz/contemporary diversities and performance virtuosities.
Houle's spontaneous single-take improvisations with Helias are short – some less than a minute – yet bursting with musical ideas. Each duet is placed between the longer Houle compositions, giving a welcome contrast. The opening Prelude features tonal, short, sweet and calming two-clarinet melodic interchanges by the two masters. At under one minute, it tweaks interest in what is to come. Interlude 1 features high-pitched contrapuntal lines, like the little birds singing outside my window, and is a great contrast to the fast, complex, dense full-band The Black Bird – the track just before it – with its slower guitar solo midsection and touches of superimposed jazz and avant-garde full-band sounds. The brilliant title track Recoder has all things musical, from pacesetting staccato guitar opening plucks, full-band, wall-of-sound effects, standard swinging grooves, amazing Houle rapid clarinet lines and clear production values.
Houle writes in his notes that he formulated "an approach that would be mindful of giving each instrument within the quartet complete involvement." From calm to intense, his brave musical approach drives Recoder to timeless musical permanence.