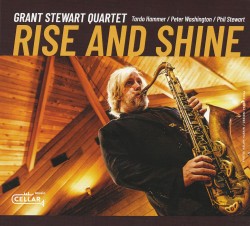 Rise and Shine
Grant Stewart Quartet
Cellar Music CM110419 (cellarlive.com)
A discussion I frequently have with fellow jazz musicians regards what percentage of a musician's time is best allocated towards paying homage to the tradition, versus innovating. I'm generally of the camp that stresses innovation and modernity, but I have much respect for those who masterfully devote themselves to keeping a more classic style of improvised music alive, with the caveat that this is executed in the most genuine and immaculate way possible.
What could be a better way to accomplish this goal, than to record at the Mecca-esque Englewood Cliffs, New Jersey locale that has accommodated countless sessions for Prestige, Blue Note, Impulse and CTI, among other record labels? Jazz is a style of music that frequently negates the technicalities of where it's recorded ("it's all about the notes, man!") but a listener would be hard pressed not to notice the unique sound Rudy Van Gelder's studio imparts, even today, four years after the late engineer's passing. The thought crossed my mind how perfectly both Grant Stewart's musicianship and the aforementioned studio fit the mandate of Cellar Music – "timeless, swinging, heartfelt, and resonant."
Returning to my earlier musings on tradition versus innovation, it strikes me that there is a certain level of commitment necessary to make a recording in 2020 that harkens back to the jazz of the 50s and 60s sound "timeless." Grant Stewart, along with his stellar band and excellently balanced repertoire, demonstrate this commitment to its fullest extent, making Rise and Shine a treat to listen to.