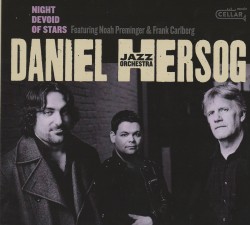 Night Devoid of Stars
Daniel Hersog Jazz Orchestra
Cellar Music CM051119 (cellarlive.com)
Three words come to mind when listening to Night Devoid of Stars: sophisticated, assured and grooving. Daniel Hersog is based in Vancouver, as are most of the excellent musicians in his orchestra, but the album features two special guests: New York saxophonist Noah Preminger and pianist Frank Carlberg (director of the New England Conservatory Jazz Composers' Workshop Orchestra). Hersog's compositions contain many textures and techniques, incorporating contrapuntal movement between horn sections, extended passages with flute and muted brass voicings, other times opening up to feature soloists.
The opening song, Cloud Break, begins with a four-note rising fanfare which is thrown around between brass and wind sections, takes on a minor variation and some counterpoint that leads into a free-wheeling trumpet solo from Frank Turner that is both loose and swinging. Motion begins with some fine gospel piano from Carlberg, and after the band enters to state a theme, he embarks on a solo grounded in solid rhythm with just enough notes to impart feeling and innuendo without hubris. After a brief ensemble interlude, Preminger lays down a solo that demonstrates why he won a Downbeat award. He begins with a sparse and wistful melody, his lines become more fluid, he and Carlberg perform some off-rhythmic riffing, and then he throws in a few angular and aggressive patterns before the band's outro and Carlberg's calm ending.
Night Devoid of Stars is full of complex and surprising moments like these. In fact, the title has to be slightly ironic because there are many stars on this album: Hersog's compositions and arrangements, his featured guests and the very fine jazz orchestra.