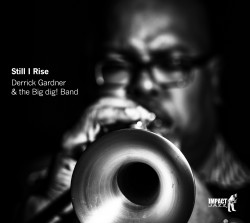 Still I Rise
Derrick Gardner & the Big dig! Band
Impact Jazz IJ002 (derrickgardnermusic.com)
Derrick Gardner's musical journey began in Chicago, where both his parents were musicians and educators, moved to New York for more study, then around the world as he played in the Count Basie Orchestra and other groups. Since 2011 he has held the Babs Asper Chair in Jazz Trumpet at the University of Manitoba's School of Music in Winnipeg. For Still I Rise, an album he composed and arranged, he gathered musical friends and family from the past two decades (from the United States, several players local to Winnipeg and others, like Curtis Nowosad who was originally from Winnipeg but has been making a name for himself in New York).
Soulful Brother Gelispie, is dedicated to drummer Randy Gelispie, and contains excellent solos from guitarist Kasey Kurtz, Mark Gross on soprano sax and Nowosad on drums. Melody for Trayvon (dedicated to the teen slain in a "neighbourhood watch fiasco" in 2012) is slower and pensive, reminiscent of Mingus' Goodbye Porkpie Hat. Push Come da Shove begins with a meditative introduction, then shifts gears when the band enters with a grooving blues riff, and full sax and brass ensemble sections work into a sophisticated trumpet solo by Gardner.
The title piece starts rolling immediately with ensemble sections, some contrasting figures between saxophones and brass and then into an up-tempo solo by Gardner and a trombone solo by his brother Vincent. The closer, Heavens to Murgatroyd!, is a playful tune which includes cartoon samples and DJ Stop sounds all over a solid 3/4 time groove. Gardner's orchestrations are expressive and contain full-on band sections as well as more restrained segments. All pieces are between seven and 15 minutes which gives the soloists time to stretch out so we can hear their individual personalities. Still I Rise swings from beginning to end.