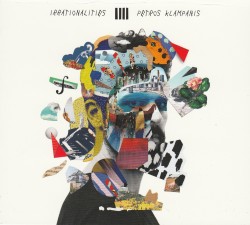 Irrationalities
Petros Klampanis
Enja Yellow Bird YEB-7797 (petrosklampanis.com)
The personal, profound and eloquent utterances grow organically into and out of this extraordinary music by contrabassist Petros Klampanis together with the brilliant young pianist Kristjan Randalu and the drum wizard, Bodek Janke. Irrationalities has luxuriant and mystical music, played with intimately expressed feelings and emotion.
All three musicians have proven their versatility on numerous occasions and their coming together here again, at the bassist's behest, to play his atmospheric music seems to be a divinely fortuitous event. The music that ensues on the recording is something to die for. It is fastidiously conceived and sensuously played. Not a single semiquaver is out of place as Klampanis, Randalu and Janke traverse what seems like one musical epiphany after another.
The performance on Seeing You Behind My Eyes is enigmatic. The two parts of Temporary Secret are beguiling and Blame it On My Youth is simply breathtaking. A rare kind of intimacy and shared enjoyment is all over the performance. Compositions are idiomatically interpreted and every improvisational phrase is seized as if to capture the most ephemeral aspects of musical creation – and that too, with consummate ease.
This music is natural and inspired. Klampanis' powerful virtuosity rumbles with gravitas from the very first bars that he plays. Unusual, even through the darkest tones of his bass, is the manner in which he is able to make it all work, while offsetting Randalu's wispy elegance and quiet charm and Bodek's whispered gentility throughout.