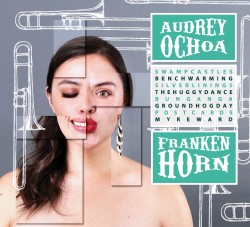 Franken Horn
Audrey Ochoa
Chronograph Records CR-080 (audreyochoa.com)
Surely many jazz enthusiasts who have kept up on contemporary artists have come across famed Troy "Trombone Shorty" Andrews and his unique style of trombone-centric jazz, but Canadian Audrey Ochoa's newest release proves yet again that we have our own northern version of the aforementioned golden horn talent. Ochoa manages to successfully blend the old and the new, invoking feelings of nostalgia while introducing elements of modernism through electronic remixes of some tracks by electronica DJ Battery Poacher alongside more traditional pieces. Genre boundaries are cast aside here as we travel through sultry Latin-flavoured tracks to chamber music and unique string arrangements by Ochoa herself thrown into the mix.
Swamp Castles starts off the album with a driving drum and bass groove which is overlaid by an energetic trombone line supported by a beautiful and captivating counter melody within the strings. Benchwarming takes the listener into a Latin musical world with smooth trombones, Chris Andrew's diverse chord progressions on the piano and Luis Tovar's sizzling conga rhythms pulling everything together. The track The Huggy Dance is a personal favourite as it really showcases how electronica can be successfully brought into the jazz world to add a fascinating contemporary flavour that is just delightful to listen to, a lo-fi groove that pulls you right in. A true breath of fresh air suitable for anyone getting into the jazz scene or just looking for something new.