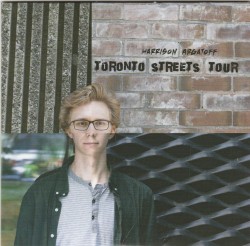 Toronto Streets Tour
Harrison Argatoff
Independent (harrisonargatoff.com)
With the release of his debut solo recording, uber-talented, Toronto-based tenorist Harrison Argatoff has rendered a recording of remarkable creativity. In 2019, Argatoff undertook a daunting project – he performed 30 consecutive solo concerts on the streets of the Tdot, which were exclusively promoted by releasing only the postal codes of the concert locations! Subsequently, the (I assume) highly motivated music listeners had to embark on an urban quest (throughout the revealed postal code area) for the exact location of the concert in question.
Originally from Kelowna, B.C., Argatoff is a recent graduate of the University of Toronto jazz program. He has included nine original compositions here, as well as the traditional Zimbabwean folk song, Muroro (taught by Moyo Mutamba) and the haunting Russian lullaby White Acacia, which comes directly from Argatoff's own Doukhobor heritage, and which he heard sung by his grandmother as a child. Both Argatoff's gorgeous singing voice and his lyrical tenor sound are featured here.
On Wait, Argatoff presents us with not only the hiss and whirr of Big Smoke traffic, but also a trance-inducing, Philip Glass-ish piece, rife with circular breathing and an almost whimsical air. Conversely, the delightful Muroro bobs and weaves through melodic intervals and comforting triads. A true standout is the deeply moving Rainfall, which seems to conjure all of the sadness and longing that the human heart can hold. Long, powerful, sinuous tones define this piece and also underscore Argatoff's considerable technical skill. With Flicker, Argatoff transforms his tenor into a resonant fog horn, a helicopter and perhaps the sprockets of a Super 8 projector; while Outro perfectly parenthesizes this innovative, and thought-provoking recording.