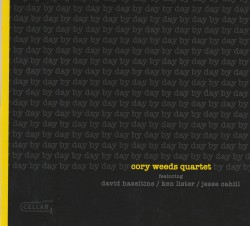 Day by Day
Cory Weeds Quartet
Cellar Music CM082619 (cellarlive.com)
Cory Weeds has made so many recordings with David Hazeltine that you wouldn't be wrong in assuming that the two are musical twins. Day by Day offers more evidence of this. The recording, an exquisite borehole into the jazzy stratum, reveals a treasure of both standards and original material, masterfully arranged by Hazeltine. Joining in the festivities are two other West-Coast masters: percussion colourist Jesse Cahill and Ken Lister, a bassist with a glorious rumble. Far from being on the sidelines, they play themselves into the proverbial thick of things.
Trios have captured our musical imagination from Art Tatum to Oscar Peterson, Keith Jarrett and Jimmy Giuffre among others. But this quartet does so too, reminding us of another classic quartet where magic occurred time and again. Weeds' alto saxophone and Hazeltine's piano are the lead voices and they sing mighty songs – song after song – as they jostle and joust with one another. Two bodies, one brain is a phrase that comes to mind. Once Blues de Troye kicks things off there's no stopping them. This repertoire is riveting from start to finish. Not many recordings have that quality these days.
Hazeltine's arrangements ensure that there is plenty of showtime for all four musicians. The joys of this music are also heartily celebrated by Cahill whose fizzing brushes and sticks are goaded by Lister's gravitational bass. Put this all together and indeed you have the classic Canadian quartet.