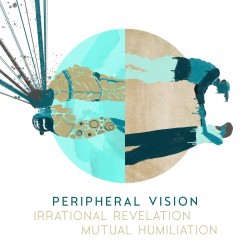 Irrational Revelation & Mutual Humiliation
Peripheral Vision
Independent (peripheralvisionmusic.com)

Peripheral Vision could be described as "cerebral grooving jazz" where any of the tunes can effortlessly change course throughout their performance. The catchy titles (Mutual Humiliation Society, Neo-Expressionism for Pacifists or Title Crisis), off-kilter melodies and changing textures show this group is always thinking the big post-bop jazz thoughts. Compositions are by guitarist Don Scott and bassist Michael Herring. Drummer Nick Fraser is always highly inventive and works to actively shape the music, dynamically changing the beat and inflections from one moment to the next. Trevor Hogg's saxophone lines are restrained and sinewy combining melodic patterns with a touch of swagger.
Some highlights include Brooklyn's Bearded which was inspired by some Eastern European jazz heard at the famous Brooklyn music venue Barbès. It begins with a moody sax line over top of a lazily contrapuntal guitar, then works into an elegant sax solo, a very beautiful, circus-like whirl of major key sound in the middle and into an intense, yet precise, guitar solo. For Kent Monkman is breezy with an elegant melody over a fast walking bass. Michael Davidson's vibraphone adds a kind of 50s Mad Men feel so the tune mixes periods just like the famous artist does with his paintings. Irrational Revelation is this group's fifth album and a double one at that; it offers delightful surprises and great playing on every track.