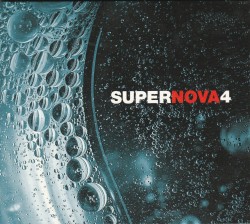 Supernova 4
Félix Stüssi; Jean Derome; Normand Guilbeault; Pierre Tanguay
Effendi Records FND159 (effendirecords.com/en/album/supernova4)
Montreal-based musicians Jean Derome (alto/baritone saxophone, flute), Normand Guilbeault (double bass) and Pierre Tanguay (drums) were approached by Swiss/Montreal-based pianist/composer/producer Félix Stüssi to combine musical forces to perform his works. Recorded live in 2019 at Montreal's Chapelle historique du Bon-Pasteur and at Oscar Peterson Concert Hall, this is out-of-this-world uplifting music.
Stüssi's compositional style encompasses the traditional to modern jazz with tons of inherent improvisational opportunities. Highlights include the opening track, T.R.T (Tapir Racing Team) an upbeat, happy, tonal toe-tapping tune, with contrasting slower solo sections, showcasing formidable tight ensemble work and solo musicianship. The exuberant Bagatelle features an underlying humorous jazz feel contrasted by intermittent slow rubato sections and Stüssi's flashy, fast-trilled piano solos. Guilbeault's contrasting high and deep low resonating held and plucked bass solo opens Urubu, a more atonal piece highlighted by quasi-unison piano/sax lead-line playing and subsequent full-band loud section. The closing more modern-sounding Super 8 features more solos and a full band finishing with a bang and cymbal crash. Also included is Jean Derome's composition La Nouvelle Africaine which opens with an extended Tanguay drum kit solo with singing cymbal effects, leading to upbeat clear ensemble playing and a rapid, intense, clever Derome sax solo.
Supernova 4 with its unique compositions and solo/ensemble performances are equal if not superior to April's supermoon or a supernova star blast – memorable, breathtaking and powerful.