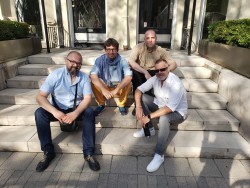 Vortex
ITACA 4tet
Nusica nusica.org 17 (nusica.org)
Four musicians – clarinetist François Houle, alto saxophonist Nicola Fazzini, bass guitarist Alessandro Fedrigo and drummer Nick Fraser – have managed to create music exactly as promised: that is, a Vortex of sound. Vortices are formed – in the physics of fluid dynamics – by stirring fluids or gasses into whirlpools, smoke rings, tornadoes and dust devils. And while a turbulent artistry might characterize the curl of the flow velocity of this music, perhaps in the opening bars of Sketch 26, the most mesmeric musical vectoring shows up as the music progresses into Saturno and beyond.
In later repertoire such as Chorale and Calanques, for instance, we discern a degree of artistry that is highly commendable. There are displays of controlled instrumental pyrotechnics. These have a direct bearing on the resulting music, which is always rigorous and driven by architectural acuity. Houle, Fazzini, Fedrigo and Fraser, all ooze impetuosity and their performances are full of vitality especially on 'Nette, a boppish song with diabolical harmonic inversions. The musicians may not play together often, as they are located in disparate places, yet they parlay with the familiarity of old friends.
Nothing is forced or exaggerated, an error often observed in consciously experimental music. Tempos, ensemble and balance – all seem effortlessly and intuitively right. There is much sensitive give and take between the four instruments, much intimacy and subtle variation of momentum, colour and feeling. In sum, this music suggests uncommon gem-like craftsmanship.