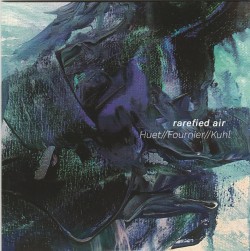 Rarefied Air
Huet; Fournier; Kuhl
Furniture Music Records AF003 (alexfournier.bandcamp.com)
This month, my assignments included two discs of freely improvised music, which are at the same time the simplest and most difficult to review. In one way it becomes all about the vibe of the recordings, and in another there are no traditional compositions/tracks/solos to discuss in a more formal manner. The review of Wide dealt with an offering that was recorded live and fit more into the free-jazz realm we associate with the likes of Ornette Coleman and Eric Dolphy, whereas this disc is far more ambient, in one way smoother to listen to, and in another more subdued and introspective.
Edwin Huet, Alex Fournier and Mike Kuhl have collaborated on Rarefied Air which consists of four freely improvised tracks involving double bass, drums and electronics. Fournier, who has for years been a mainstay on the free-jazz scene in Toronto, brings his usual mix of stoic restraint and instrumental proficiency to the table. Huet and Kuhl hail from the Baltimore area, and are both known for their expertise in freely improvised music and a variety of other styles. Kuhl's drumming is exciting and uplifting, while Huet's use of electronics gives the recording a unified, produced sound. We are living in odd and unprecedented times, but avant-garde recordings like Rarefied Air now provide a thought-provoking and welcome release from the strangeness of this era.